I went to Coyote last night...I has invited
fkgirl out with me, but she couldn't make it. So I ventured out on my own. Coyote was cool....I got to talk to Bill and Gabrial....they are really nice guys. Anywho, around midnight I decided to hope over to the Beach and see if anything was going on....well HOLY SHIT!! There was some sort of event going on....I dropped the car in valet and stood in line for 30 minutes (Damn is was nippy!) After loosing feeling in my arms I went over to ask a bouncer if it was still ladies get in free.
I figured that I should probably if I was wasting my time or not....well he said that it was get in free still IF you hada ticket. At this point, I'm bummed and ready to turn around and go home. BOO HOO! Well the bouncer asked how many were in my party...."I'm a one woman party!" HAHA He gave me a ticket and slipped me into the VIP line. GOD I LOVE VEGAS! I walked in and guess who what there.....XZIBIT!!!!! I walked into a live concert. It was being hosted by Coolio and DJed by Benji and Joel of good charlotte. I had the best time!!!!
Well it would have been funnier if my girl Chris would have been there, but next time right?!
Oh I also got kissed by some girl. Apparently I looked like someone that she hadn't seen in forever. HAHAHA I have a long lost twin out there.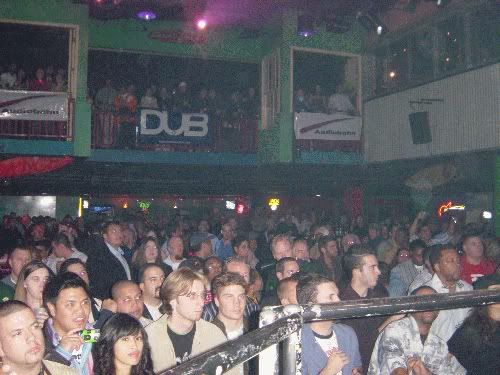 I found this pic on the beach web site.....I was standing right behind the guy in the bottom right hand corner. DAMN IT ALL TO HELL